ARCHIBUS Web Central
Using Drill-Down Selection Lists
Some views includes a drill-down selection list to help you quickly locate an item in a hierarchy that you want to work with. For example, you can select items in a geographical hierarchy to quickly get to the location level you want to work with. As you make selections, the list expands to show the items it contains.
Drill-down selection lists can include the following features:
Filtering the list: For some drill-down selection lists, you can restrict the data that appears in the list. This enables you to more easily locate an item when working with large data sets. Filters might be entered using a Filter console or from a pop-up window that you access by clicking the Filter icon. Note, however, that not all drill-down selection lists include the ability to filter the list.
Selecting single items: Some drill-down selection lists enable you to select a single item by clicking the item. Data for the selected item appears in the right section of the screen.
Selecting multiple items: Some drill-down selection lists enable you to select check boxes for multiple items, and then click a Show Selected button to display the items.
The following image shows a selection list that enables you to select multiple items and that also includes a Filter icon.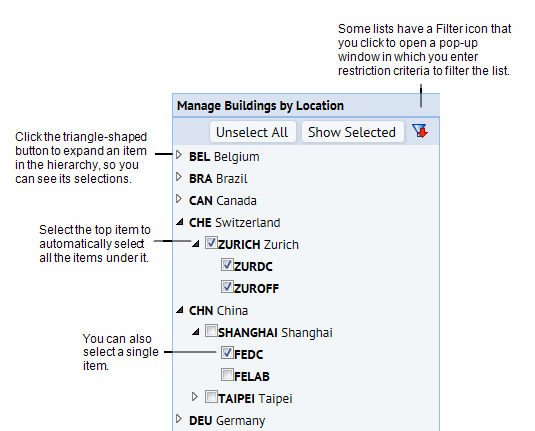 Copyright © 1984-2014, ARCHIBUS, Inc. All rights reserved.