What's New in ARCHIBUS V.24.1?
The ARCHIBUS BIM Explorer
The ARCHIBUS BIM Explorer enables users to easily navigate and find assets in complicated Revit models in ways that support the overall ARCHIBUS view of assets. The built-in Revit Project Browser is limited in the fact that it is Revit View-based as opposed to Revit Level-based, which would be more intuitive from an ARCHIBUS perspective.
With this overall goal in mind, the BIM Explorer provides the following advanced capabilities and benefits:
View and work on assets in the model by floor rather than by the design or construction view.
Display all elements in a model and linked models that can be considered as ARCHIBUS assets in a simple and intuitive User Interface, such as Rooms, Equipment, etc.
Take control over which Revit Levels, Revit Views, Revit Categories and ARCHIBUS Asset Types displayed in the User Interface.
Switch to any view from the User Interface.
Find any asset anywhere in the current model.
Work with existing functionality such Drawing Properties, Catalog, and Edit data from the User interface.
Display both Revit Parameter and ARCHIBUS Asset details in one place.
Working with the BIM Explorer provides these benefits:
| | |
| --- | --- |
| Find all ARCHIBUS assets that can be commissioned in one drill- down tree and catalog them in one step. | Speed commissioning. |
| Search by object type – not just Revit level. Zoom instantly to selected equipment, rooms and furniture to correct and edit anomalies. | Speed error checking. |
| Group assets by Revit Category or ARCHIBUS asset type. Search on logical criteria. Find assets quickly and easily | Find assets quickly and easily. |
When you right-click an asset on the left, additional controls appear in the popup menu: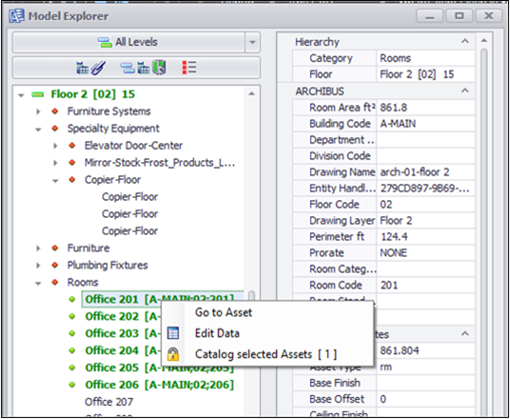 Typically, the BIM Explorer appears as a panel to the left of the Revit drawing view.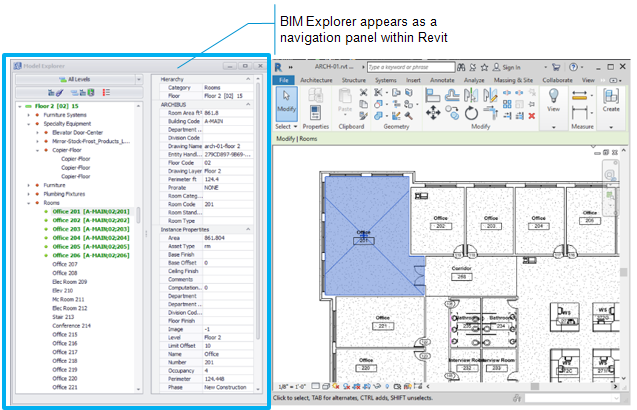 When you select an asset, such as a copier, in BIM Explorer, Revit locates the asset and highlights it in the floor plan.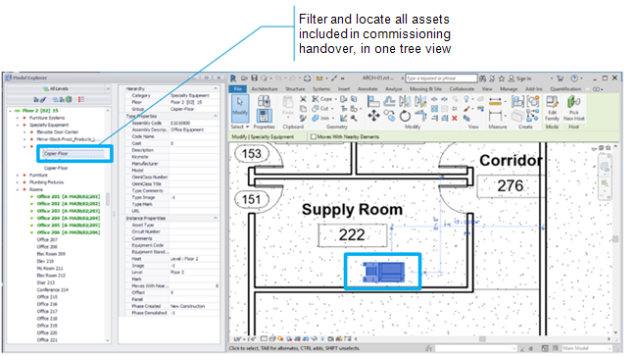 Help topic
CAD/BIM User's Guide / Smart Client Extension for Revit / BIM Explorer / BIM Explorer: Overview
Copyright © 1984-2019, ARCHIBUS, Inc. All rights reserved.