What's New in ARCHIBUS V.24.1?
BOMA 2017 Rentable Area Calculations
The Building Owners and Managers Association (BOMA) has introduced a new standard, BOMA 2017, for calculating rentable area. This new standard provides a uniform basis for measuring rentable area in both existing and new office buildings. BOMA 2017 adopts the best practices learned from the 2010 Standard and seeks to accommodate design and amenity trends, which have evolved since the release of the previous version. BOMA 2017 will affect the way building measurements are calculated and may change the rentable area of a building measured with either BOMA 1996 or 2010 Office.
ARCHIBUS V.24.1 has new parameters and fields to support the BOMA 2017 changes:
New application parameter:

CalculateBOMARentableArea

Use either '2017A' or '2017B' to calculate BOMA areas.

Accurately measure space portfolio, taking into account facility design and amenity spaces.

Achieve better space portfolio planning.

Store results for future reporting needs.

New database fields to store BOMA-specific values:

Area Rentable BOMA
Rentable Excclusions
Example of Rentable Area Calculations Using BOMA 2017 Method A
The Building Performance Analysis view can calculate rentable area using BOMA 2017 Method A.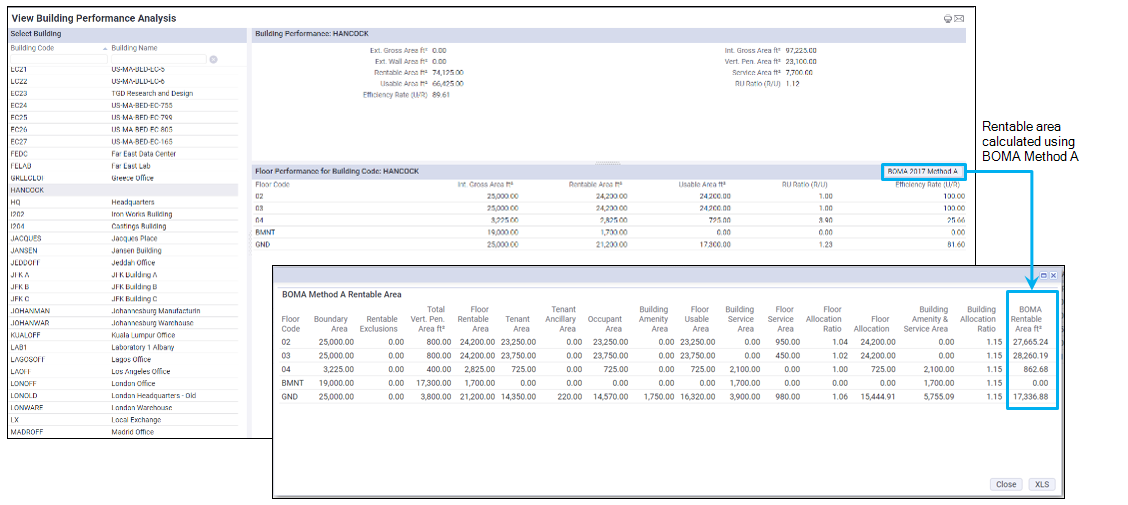 Help topic
Space Planning & Management / Space Inventory & Performance / Concepts / BOMA and IFMA Conventions / BOMA 2017 Methods A and B
Process Navigator
Space Planning & Management / Space Inventory & Performance / Building Performance / View Building Performance Analysis
Copyright © 1984-2019, ARCHIBUS, Inc. All rights reserved.