What's New in Archibus V.25.3
Maintenance: Checklists
Archibus V.25.3 extends the existing Extended Questionnaire functionality to maintenance checklists. Field personnel working through procedures or inspections can access checklists from the Maintenance mobile app and use the checklists as reference of all required steps. When they enter their responses and save the data to the system, they create a record of the work performed which can be used for compliance purposes.
Defining Maintenance Checklists and Integrating into Workflow
To create maintenance checklists, such as a checklist to inspect a fire door, facility managers use the Define Maintenance Checklists view to define the questions, instructions, and answer options that appear on the checklist. Checklist designers can organize questions into sections and include follow-up actions based on a response. Designers can choose from several question types including measurement, text, date, count, and multiple choice. They can take advantage of pre-defined question types, such as Yes/No or Pass/Fail questions.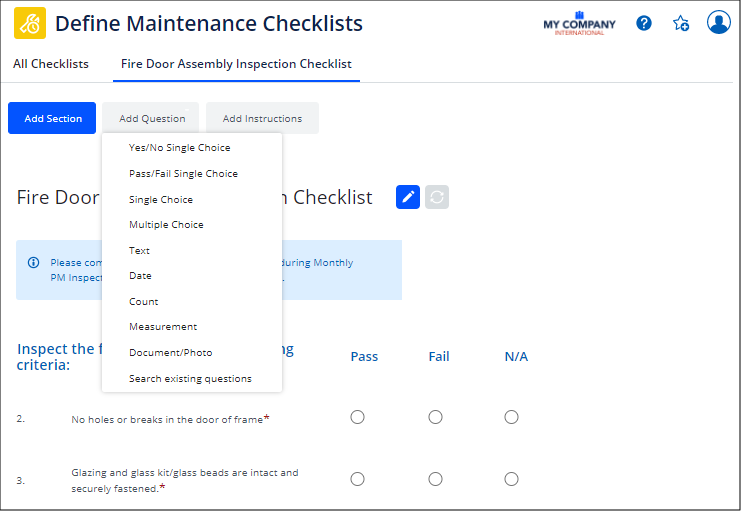 Once the designer finishes the checklist, they associate it with the maintenance workflow by linking it to the Issued step of a maintenance service level agreement (SLA).

Using the Checklist in the Field
When a work order is generated and assigned to a craftsperson, the craftsperson logs on to the Maintenance mobile app and sees their assigned work, which includes the checklist. The craftsperson works through the checklist questions to ensure that they cover all parts of the inspection. When the craftsperson has completed all questions, they submit their responses, which are saved to the system, thereby providing documentation that all steps were followed.
Reviewing Checklist Results
Once the craftsperson completes the checklist, the facility manager can review the results using the Maintenance Survey report. The report lists the response to each question and serves as documentation for the completed inspection. The facility manager can use the Smart Search Console to search on items that failed and plan steps to address this issue.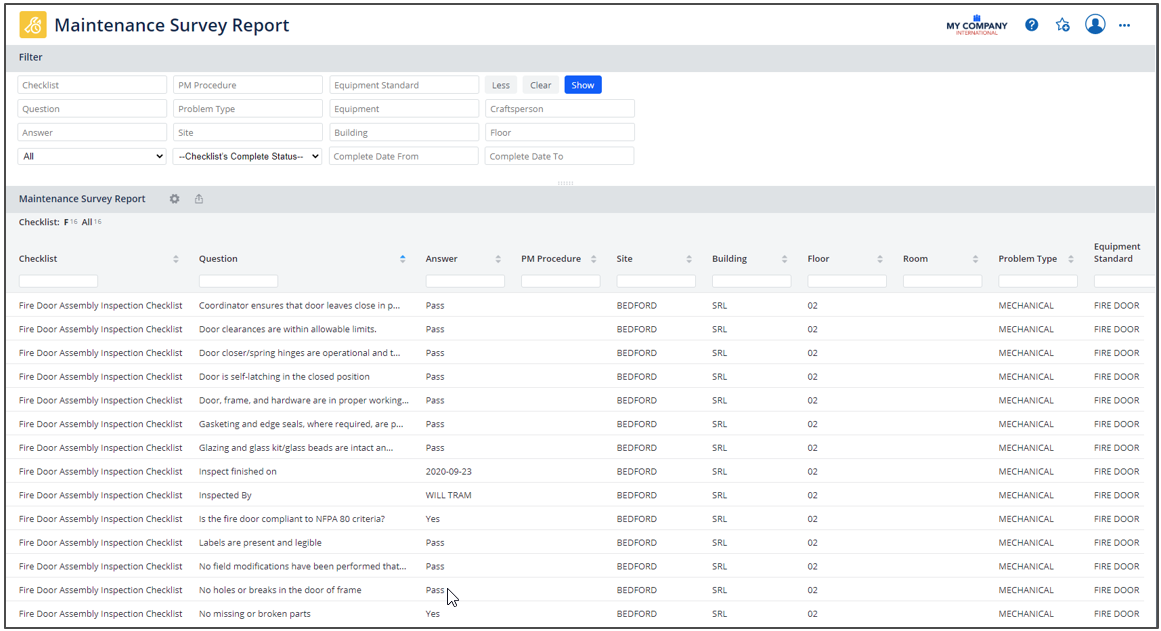 Details
Defining the Checklist
Assigning the Checklist to an SLA
Using the Checklist in the Field with the Maintenance App
Reviewing Checklist Responses