compliance program
Organizations typically have regulations that govern their activities, standards that define their best practices, or internal initiatives that address some aspect of the organization's goals, such as energy or waste reduction. To address each of these, you can set up a compliance program that is associated with a , , or .
Compliance programs organize , responsibilities, and so that you can track and manage your compliance efforts.
For example, for an Asbestos regulation, you can have the following compliance programs that manage the regulation and model how you respond to it. Each compliance program, in turn, can have , such as Supervisor License compliance program having a certification exam requirement. You can model the regulations to the level of detail appropriate for you organization. For example, in the below hierarchy, the AIR TESTING and AHERA NOTIFICATION compliance programs do not have requirements.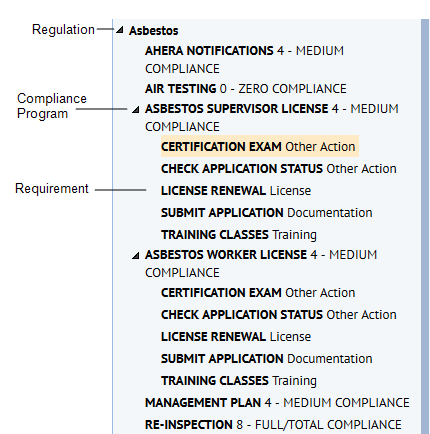 Compliance programs are stored in the "Compliance Programs and Contracts" table, the regprogram table. This table also holds The Is Compliance Contract? field distinguishes contract records from compliance program records.
Copyright © 1984-2019, ARCHIBUS, Inc. All rights reserved.