Environmental & Risk Management / Compliance Management
The Regulation Hierarchy
Government affect many aspects of a facility, such as egress, accessibility, waste management procedures, air quality, chemical handling, and so on. Staying in compliance with these regulations to avoid penalties and fees as well as to ensure safety is a key responsibility of a facility manager or compliance manager; many times, doing so requires contracting work to outside vendors who have the expertise of a particular area. The Compliance application's tools for managing compliance have regulations as the driving force from which all other tools extend.
As outlined in the below image, have assigned and , which in turn have their own elements. Contracts and compliance programs are stored in the "Compliance Programs and Contracts" table (the regprogram table). The Is Compliance Contract? field distinguishes contract records from compliance program records.
At the next level, contracts have specific and compliance programs have specific ; these are both stored in the Requirements (regrequirement) table. and corresponding can be generated for contract terms and requirements.
At each level, you can detail the element with:
Additionally, the requirement/contract term level supports adding details with costs and inspection .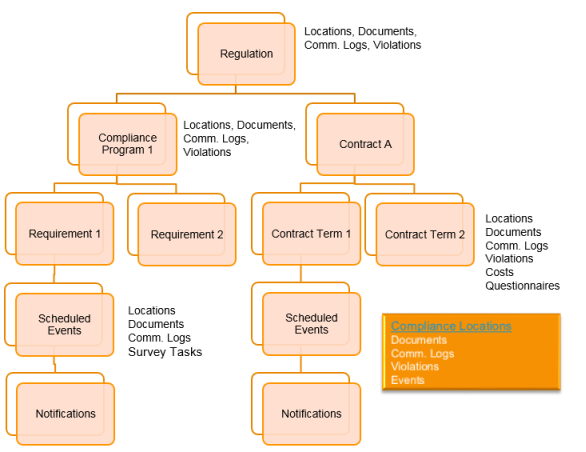 As you work with the Compliance application, you will find that some tasks report explicitly on the regulation-compliance program-requirement or the regulation-contract-contract term hierarchy, while other tasks mix these elements; since contracts and compliance programs and contract terms and requirements are stored in the same set of tables, it is easy for views to present both types of compliance items. For information, see Working with Contracts and Compliance Programs Together.
Copyright © 1984-2019, ARCHIBUS, Inc. All rights reserved.