Archibus SaaS / Assets / IT Asset Manager
Assets / Assets / IT Asset Manager
Assets / Enterprise Assets / IT Asset Manager
Assets / Telecom Assets / Telecom Management

Telecom Console: Overview
Use the Telecom Console to build and maintain your telecom inventory. You can optionally document how telecom assets are connected.
To open the console, select:
When working with the sample data to explore the telecom inventory and connection inventory features, use floor plan SRL-03, as shown below. This floor plan has several open and connected telecom assets.
From the Telecom Console, you can perform the major tasks outlined below:
Find Telecom Assets
The Telecom Console offers a filter tool for finding the telecom assets that you need.
For information, see Using the Telecom Console's Filter.
Display a Floor Plan
To display a floor plan, enter a building and floor in the filter at the top of the left-hand pane. Note that floor plans must be saved as enterprise graphics in SVG format.
Once you display a floor plan, you can maximize it and hide the grids, or use the splitter to adjust the grid pane and floor plan panes as you desire.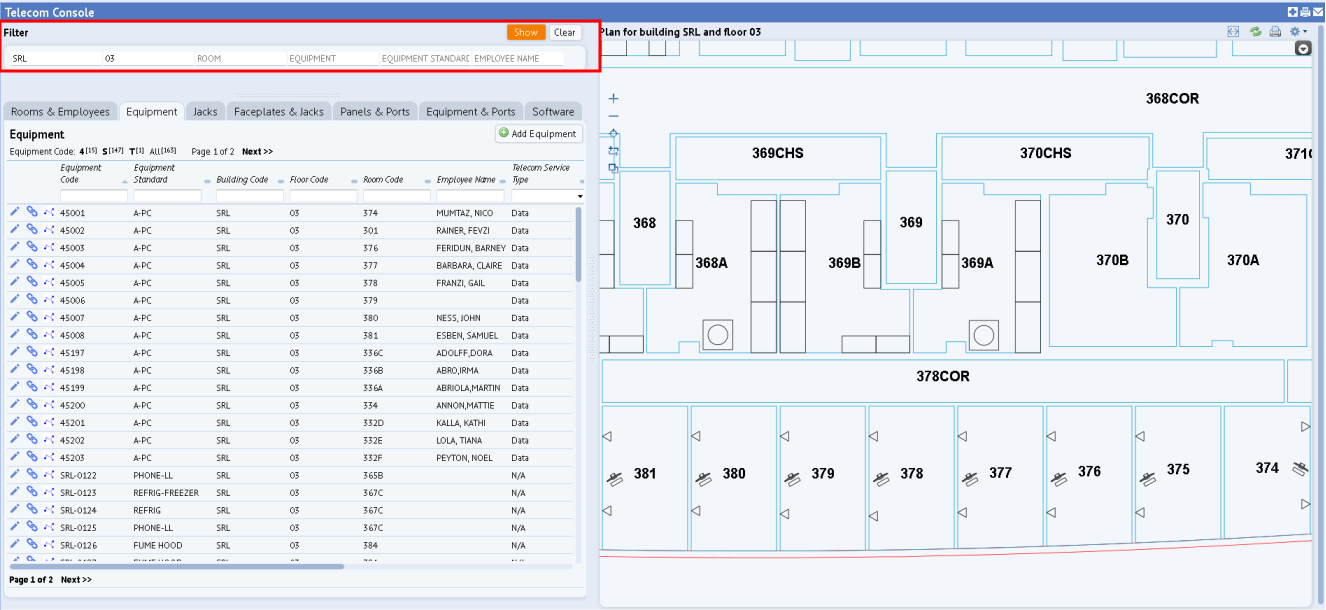 For information on working with the floor plan, see Work with Floor Plans in the Telecom Console.
Create and Edit Telecom Assets
Use the following tabs on the Telecom Console's left pane to create and edit your inventory. Use the arrow buttons to scroll through the tabs.
For the tabs that offer two types of assets, such as Faceplates and Jacks, click an asset listed in the top pane to see the items assigned to it.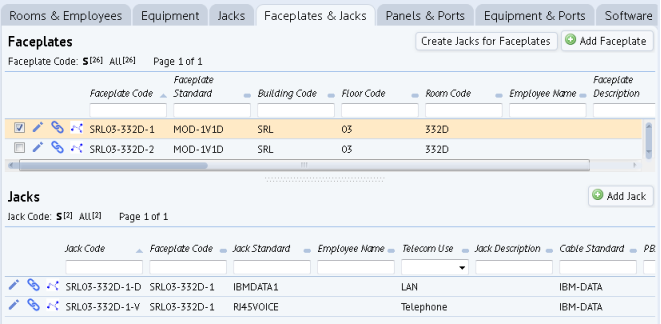 Once you create the telecom inventory using the above tabs, you can represent the asset with an asset symbol on the floor plan drawing. You can also start your data development in CAD. See Representing Equipment and Telecom Devices in CAD.
Connect Telecom Assets
Model how your telecom devices are connected by adding connections to your telecom inventory.
Show Connections
To discover how a piece of equipment connects to the network, see: